There are Thousands of gates of pit, from the streets to the internet. Narcotics Agents will keep fighting to eradicate drug abuse and put an end to the destrucion of lives.
Trends and harmful influence of drug abuse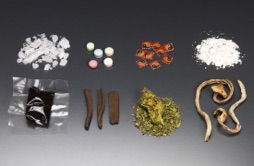 The most abused drug in Japan is methamphetamine, which is typically injected directly via the veins in  the form of water solution.
Another popular way of taking methamphetamine in Japan is called "aburi" which means evaporating the methamphetamine over a flame and inhaling the rising white smoke. Recently, abusers tend to use "aburi" as it is an easier way of taking in the substance. No matter how it is taken, methamphetamine has the same effect. Continuing to abuse methamphetamine can lead to psychosis and personality disorders.
The second most abused drug next to methamphetamine is cannabis (marijuana). Repeated abuse of cannabis can cause psychiatric symptoms, such as hallucinations or delusion. Nowadays, there is also abuse of BHO (Butane Honey Oil / Butane Hash Oil) which is a cannabis constituent extracted from cannabis leaves.
NPS (New Psychoactive Substances), drugs with minor structure modification from controlled substances to evade regulation, have constituents similar to those of cannabis, methamphetamine and other drugs. Thus they may bring about as serious health damages as those drugs do, sometimes even more serious ones.
Many of prescription drugs like sleeping pills, which are designated as psychotropics for their dependence property, bring about mental disorder such as hallucinogenic symptoms and others under long-term abuse. Though these prescription drugs can only be used subject to doctor's prescription, they are occasionally obtained through the back door and abused.